Social Media and Your Small Business
Whether you're starting a business from scratch or taking over the reigns of an existing company, social media campaigns can help increase awareness of your brand across multiple online platforms.
Social media bears risks unseen with traditional advertising. Brands cannot fully control the content posted within social networks; questionable content may affect consumer loyalty programs and leave consumers with a negative impression of the business. Done correctly, however, social media campaigns have the ability to influence an almost endless number of potential customers.
The Small Business Success Index published a recent study of small-business social media use. Out of those surveyed, 75 percent had a company page listed on a social networking site. Sixty-one percent used social networks to identify new customers and map ways to attract them, while others expect to see profits from social networking over the next year.
Though communication is now taking place online, it is imperative that businesses continue to engage with consumers in one-on-one conversations. It is not enough to simply have a company page or profile; small business owners must promote their products and promotions through lively, interactive two-way conversations with their consumers.
This article provides small business owners with an overview of the social media landscape as it stands today, instructions on how to build a collection of brand advocates, as well as insights into proving ROI through social media campaigns.
Click here to learn more about Social Media and Your Small Business
Featured buy of the day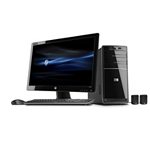 AMD Phenom™ II 830
8GB DDR3
1TB Hard Drive
25" HP...
Be rewarded for your business
Earn up to 2% cash back when you use your Sam's Club® Discover® Card.
Sam's Club Business Plus Members can earn up to 2% cash back on up to $1 million in purchases made at Sam's Club.
Small Business Plus Members earn 2% cash back.
Small Business Advantage Members earn 1% cash back.
Apply now