05/25
Rating
Tweet
Memorial Day Grilling: "How-to" Secrets and Tips from Barbecue Champ Troy Black and Sam's Club For The Perfect Memorial Day Cookout
Are you getting geared up for a great Memorial Day cookout? Pitmaster, barbecue champion and cookbook author Troy Black shares his winning grill tips and secrets with Sam's Club - ensuring that you turn out perfectly grilled meat, every time.
Troy Black's number one tip for a great grill experience? Start with great meat. "Great grilled meats start with great meat - I get all my meats from Sam's Club, because of the quality and low prices."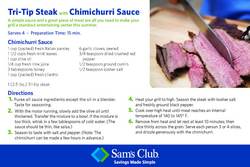 Get great Memorial Day barbecue tips from Sam's Club and Troy Black at www.samsclub.com/summer
Black's top grill tips include:
Make sure your grill is at the appropriate temperature for the meat you are cooking.
Before laying the meat on the grill to cook, Black suggests checking the temperature to ensure a perfect result. If you don't happen to have a thermometer nearby or built into your grill, Black suggests using the "hand" method:
"You can test the temperature of your grill by using your hand" Black demonstrates: "Hold your hand 4 inches above the grill. The grill is at low heat (225 to 250 degrees F) if you can hold your hand above it for 8 - 10 seconds, medium heat (325 to 350 degrees F) for 6 - 8 seconds, and at high heat (450 to 650 degrees F), you will be only able to stand the heat for 2 seconds."
Room temperature is the trick to great grill marks.
"Before lighting the grill, make sure you take your grill meat out of the fridge far enough in advance of grilling to give it enough time to warm to room temperature." Black recommends. "By doing so, you'll have the perfect start for a great (and tasty!) end result."
Are you ready to get your grill on? At samsclub.com/summer, you'll find more great ways to make your Memorial Day cookout memorable:
Watch and learn: How-to videos for the grill chef in all of us.
Keep it safe: Learn the proper way to safely handle raw meat prior to grilling in this Grilling Prep 101 video.
Cooking for a crowd? This quick video will help you make the most of shopping the meat department at Sam's Club.
The secret sauce: get great grilling tips from barbecue champion Troy Black - learn to grill like a pro.
No-fail cookout recipes: Grilling made simple.
Tri-Tip Steak with Chimichurri Sauce - This recipe proves that a simple sauce and a great piece of meat are all you need to make your grill a standout entertaining center this summer.
Southwestern Style Chicken - This marinade blends the flavor of Mexico and Cuba to create a sensational grilled chicken that just begs to be served with your favorite salsa and tortillas.
The El Paso Burger - It's an irresistible combination: great ground chuck from Sam's Club topped with sweet and tangy barbecue sauce, avocado and mild cheese.
Make your Memorial Day cookout more memorable:
Outdoor Grilling • Outdoor Living • Outdoor Entertaining • Outdoor Play